This exhibition was a collaboration between DANISH™, the web site of the Danish Design & Architecture Initiative that was launched last November, along with FRAME, the design magazine and ten Danish manufacturers.
Two young designers, Sebastian Herkner who studied in Offenbach am Main in Germany, and now has a studio there, and Niek Pulles who trained at the Design Academy in Eindhoven but is now based in Amsterdam in the Netherlands, were asked to take ten Danish design works as a starting point and, in any way they saw as appropriate, to make their own assessment or their own interpretation or their own translation of Danish design.
The design works for each of the designers were:
Tray Table, designed by Hans Bølling in 1963 and produced by Brdr. Krüger
Plateau, a new low side table by Søren Rose Studio for DK3
Caravaggio pendant light, by Cecilie Manz with the first version in 2005 for Lightyears
The Montana storage system from the company founded in 1982
Nordic Antique, a range of hand-painted and printed wallpapers by Heidi Zilmer
And there were 5 Chairs:
Series 7™ Chair, by Arne Jacobsen from 1955 and produced by Fritz Hansen
The Tongue Chair, by Arne Jacobsen from 1955 and produced by Howe
Chair J39, designed by Børge Mogensen in 1947 and produced by Fredericia Furniture
Safari Chair, designed by Kaare Klint from 1933 and produced by Carl Hansen & Søn
The Fiber Chair, designed by Iskos-Berlin and launched last year for Muuto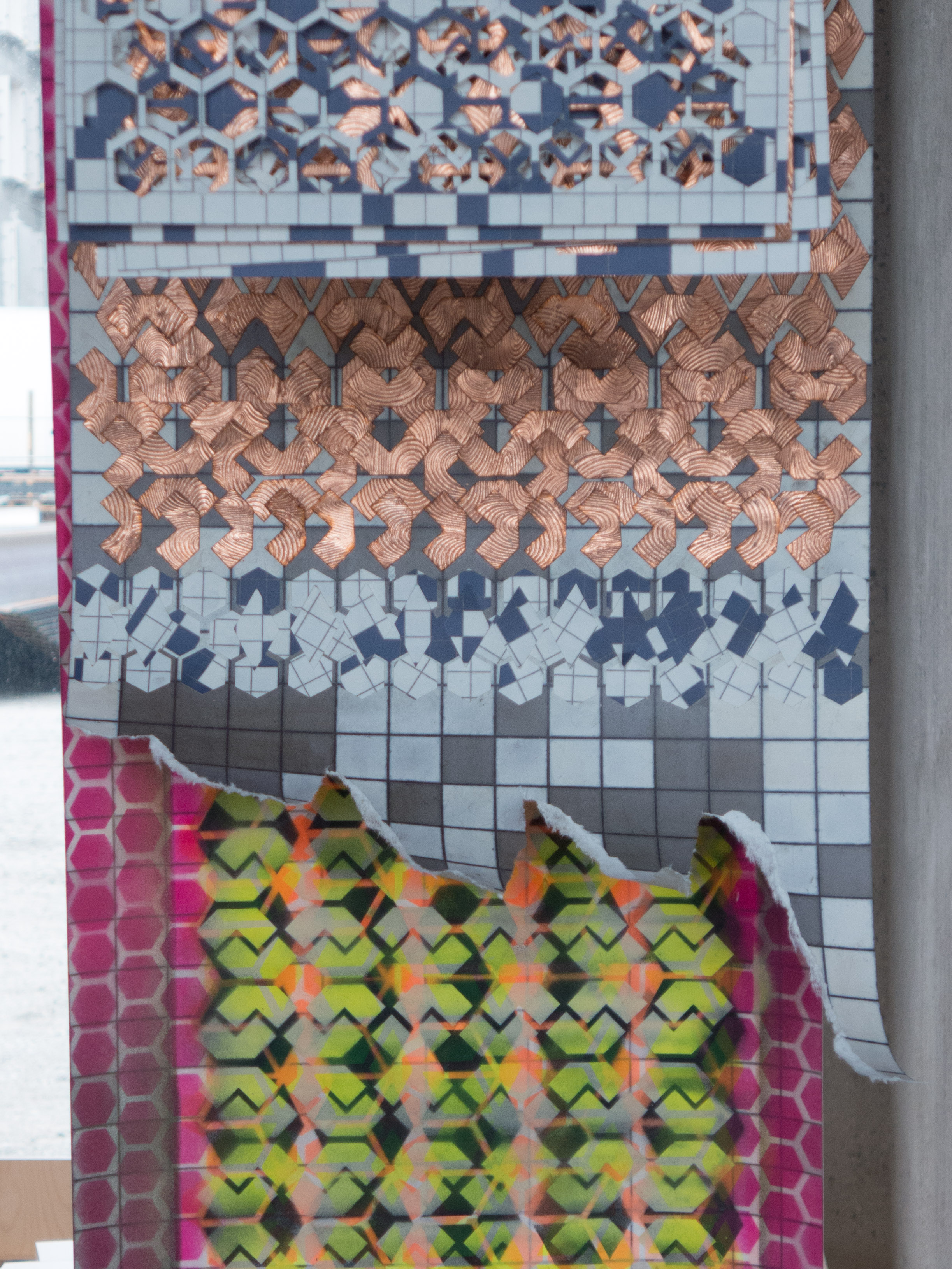 Both designers are building rapidly their own International careers - so both have a clear view of how the design industry is moving or should move forward but also have the perspective of someone within the profession but from neighbouring countries that have their own strong design traditions so they could be more detached in their assessment of Danish design than Danish designers.
Sebastian Herkner focused on the details and the quality of finish found in all the pieces by suspending large magnifying glasses from simple and elegant white-painted metal frameworks in front of the pieces. Each identified a different character or quality that had been observed as the works stood in the studio. Danish buyers demand extremely high production qualities but this is now taken as a given but the magnifying glass forces the viewer to focus in on pieces that, on the whole are so well established and so familiar, they rarely excite comment. In part this view also shows that simplicity is achieved by refining the elements until nothing can be added or taken away without compromising the integrity and beauty of the whole. With such a perfect starting point, or base, it is then the way that the owner uses the pieces that add individuality and personal history.
Niek Pulles took the opposite view, adding to the pieces himself, particularly adding texture but also pattern and colour. This hastened the time process by which families might add to and adapt the pieces to make them their own. One very marked and interesting difference was in the way the two designers approached the wallpaper by Heidi Zilmer. Although the tile version looks like a simple grid of dark lines over a uniform grey representing small square glazed tiles the magnifying glass showed the huge skill of the trompe l'oeil painting of crizzled glaze and irregular grout, here a deeper complexity than the apparent simplicity, whereas Niek Pulles used laser cutting to create new fine geometric patterns through the papers which were then overlaid to emphasise the way the papers themselves are built up through complex layers of paint and gilding.